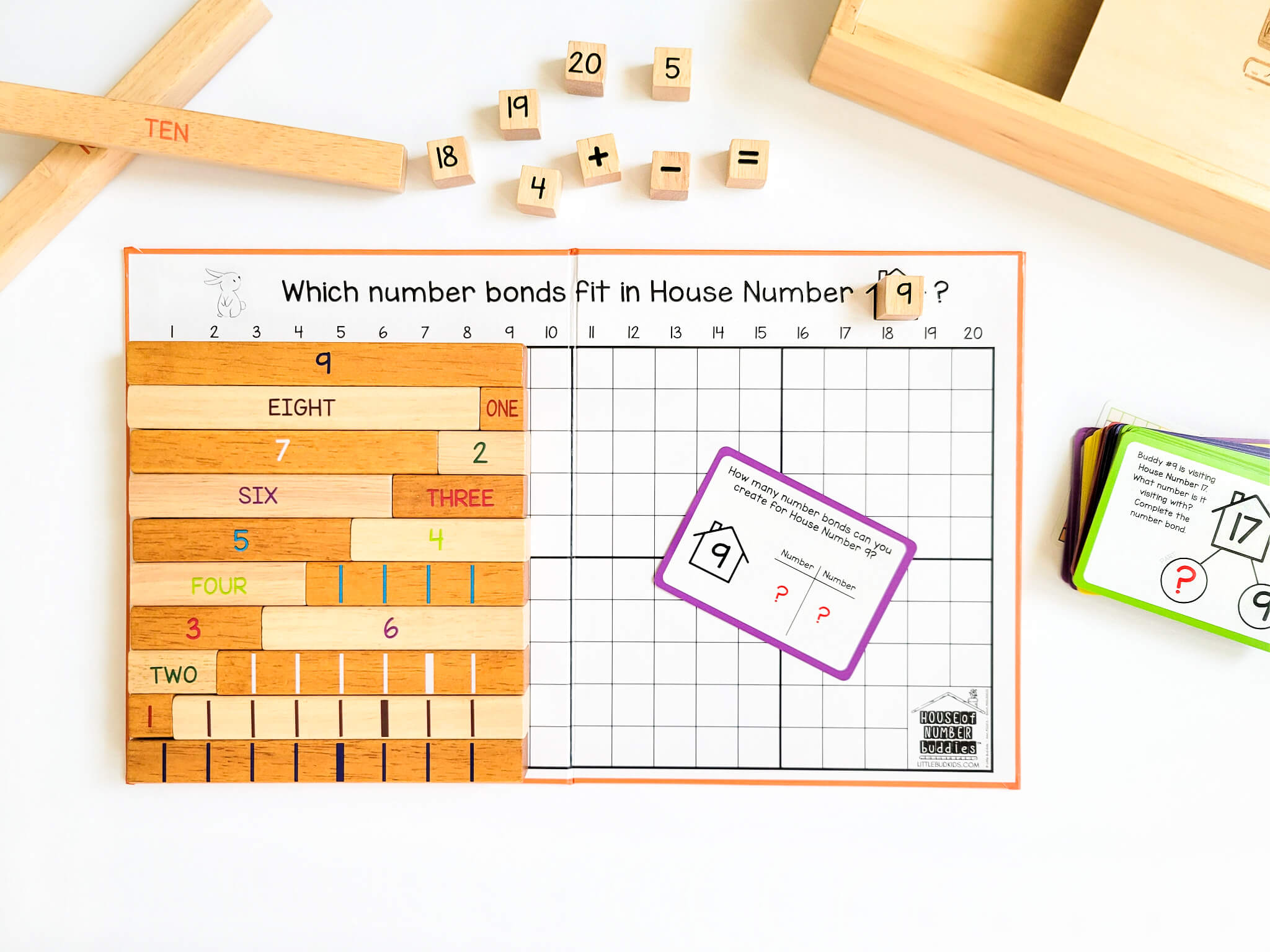 Little Bud Kids' House of Number Buddies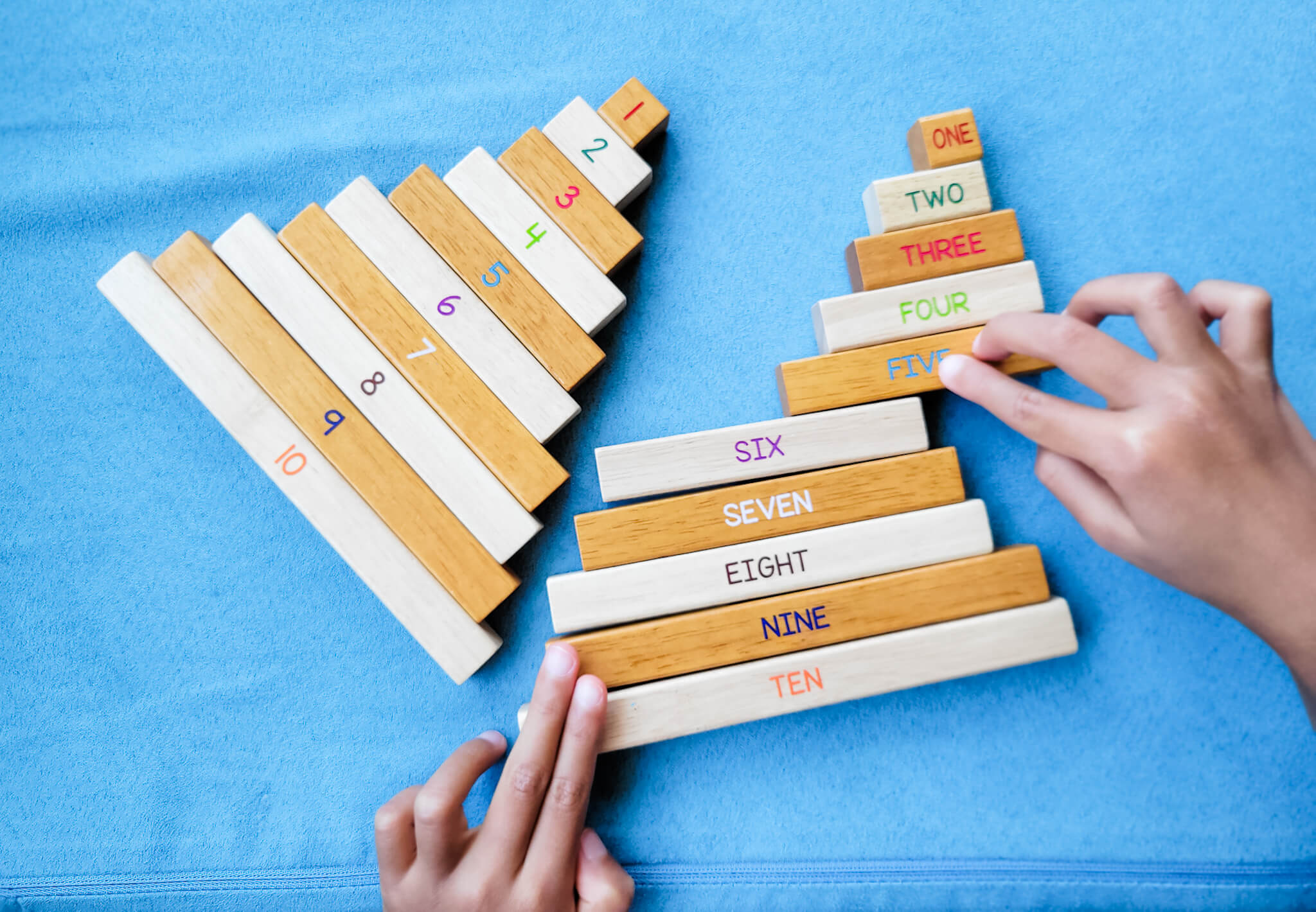 Rods in gradient lengths show the relationship between length & value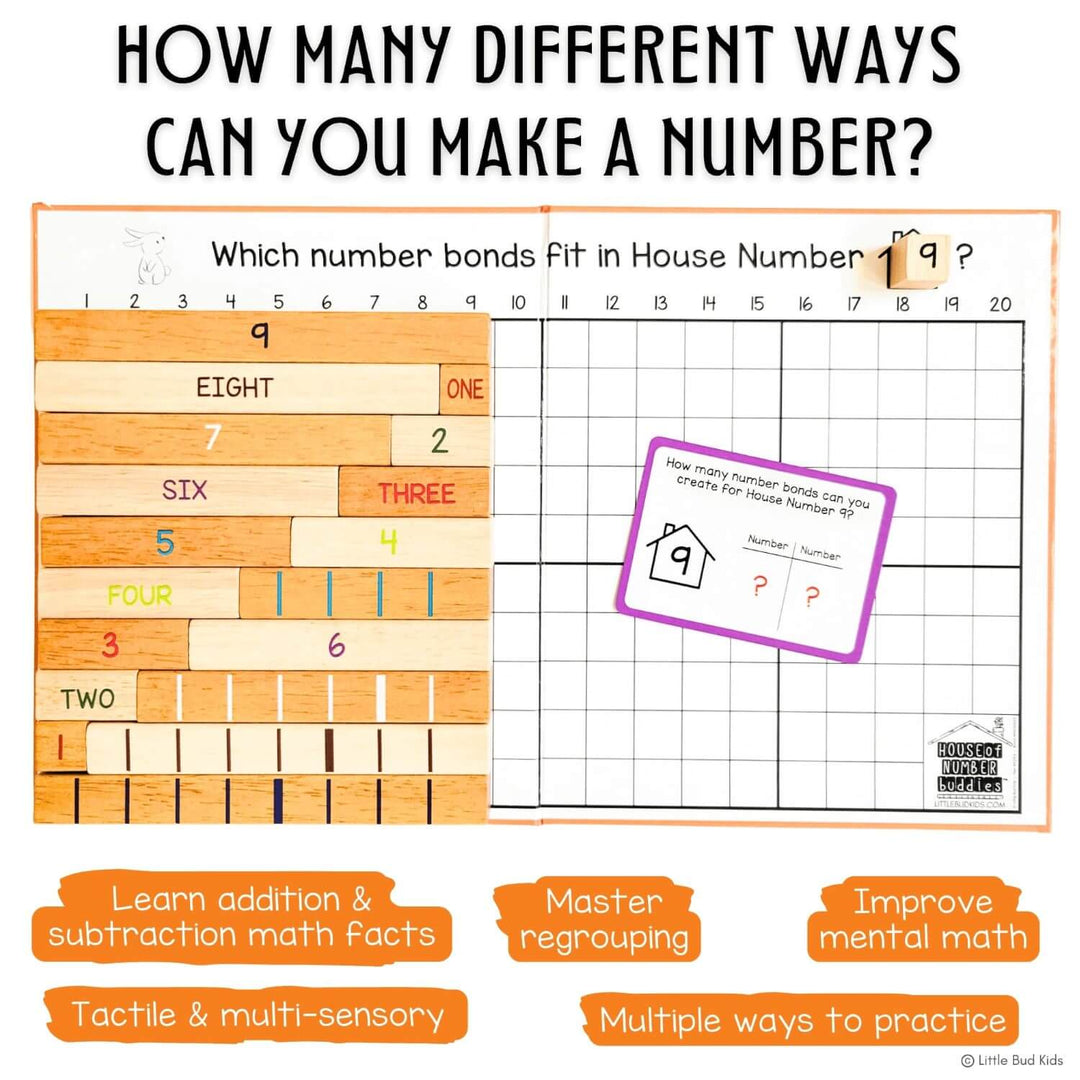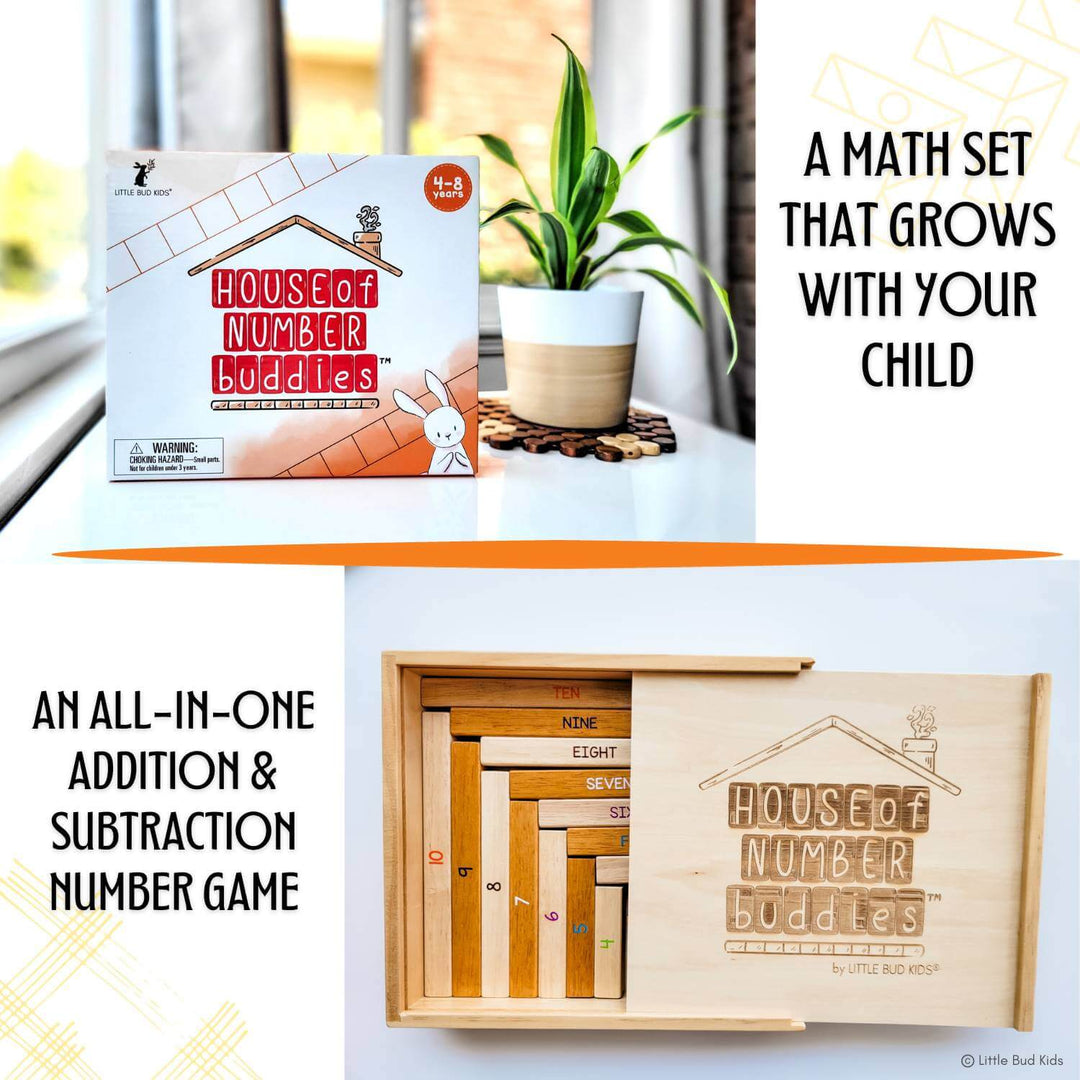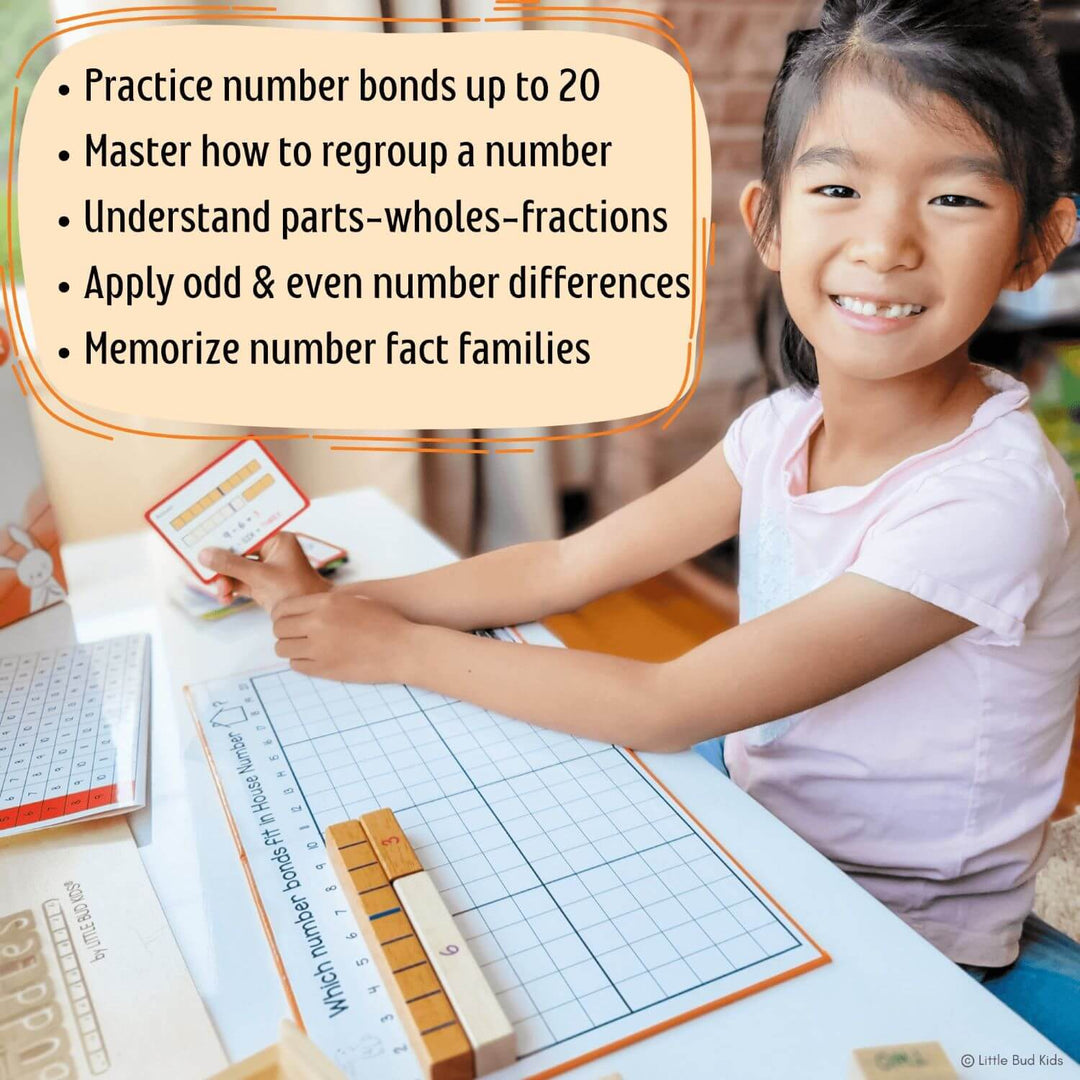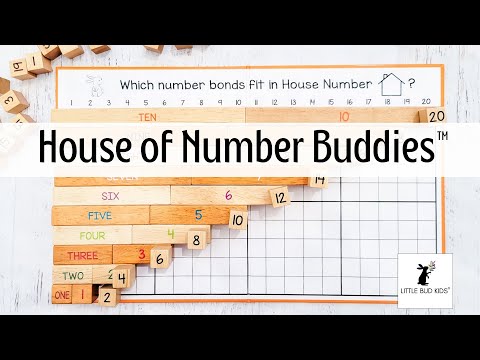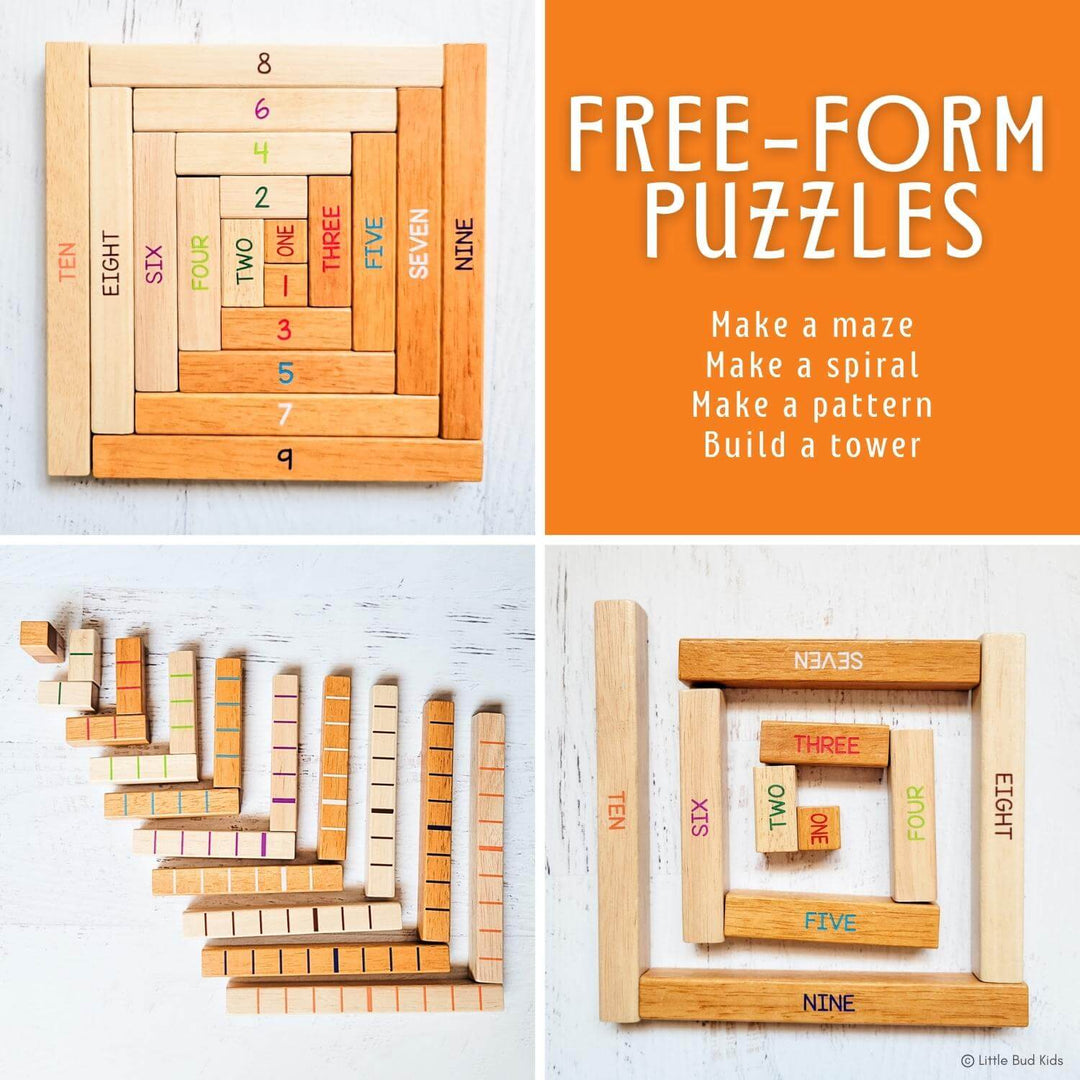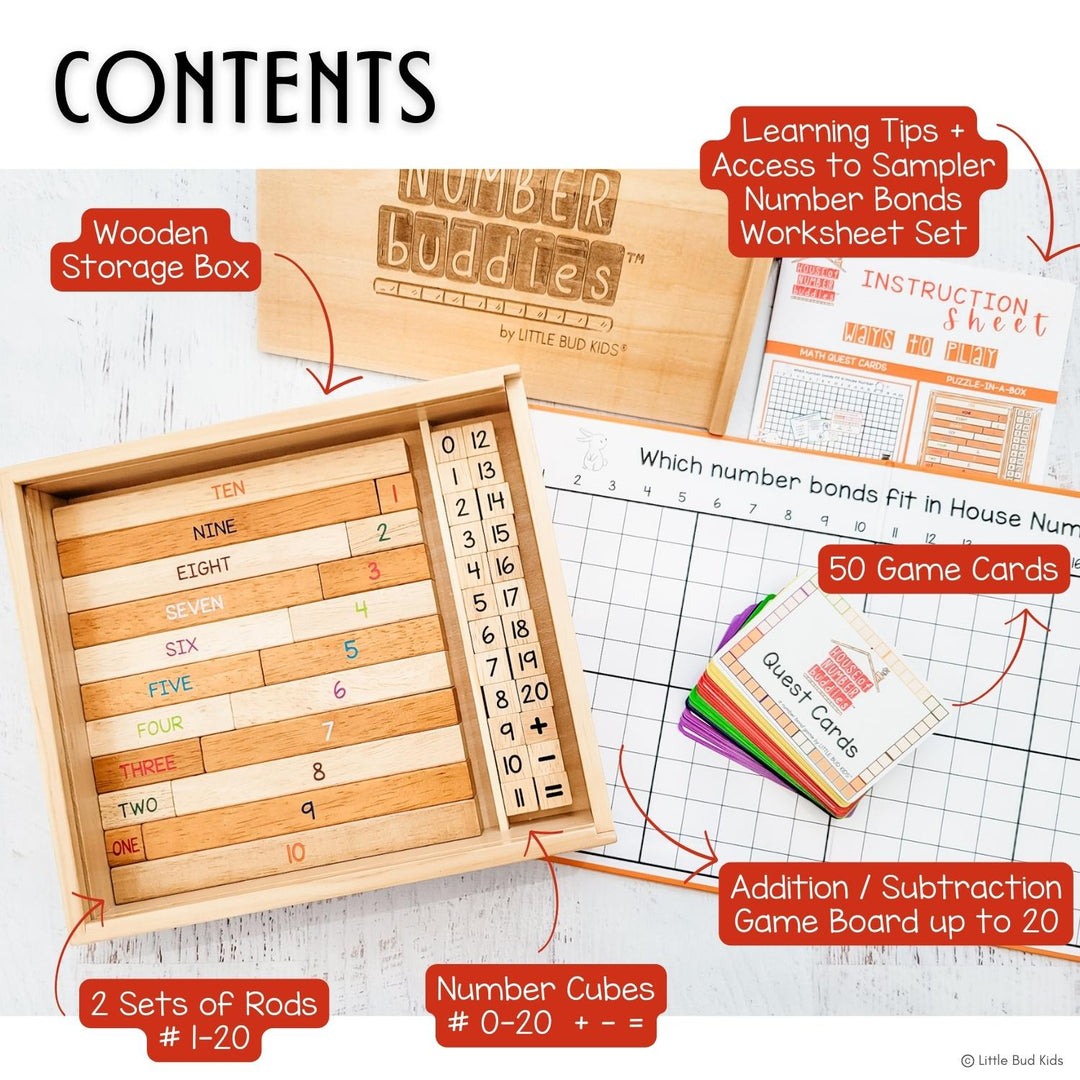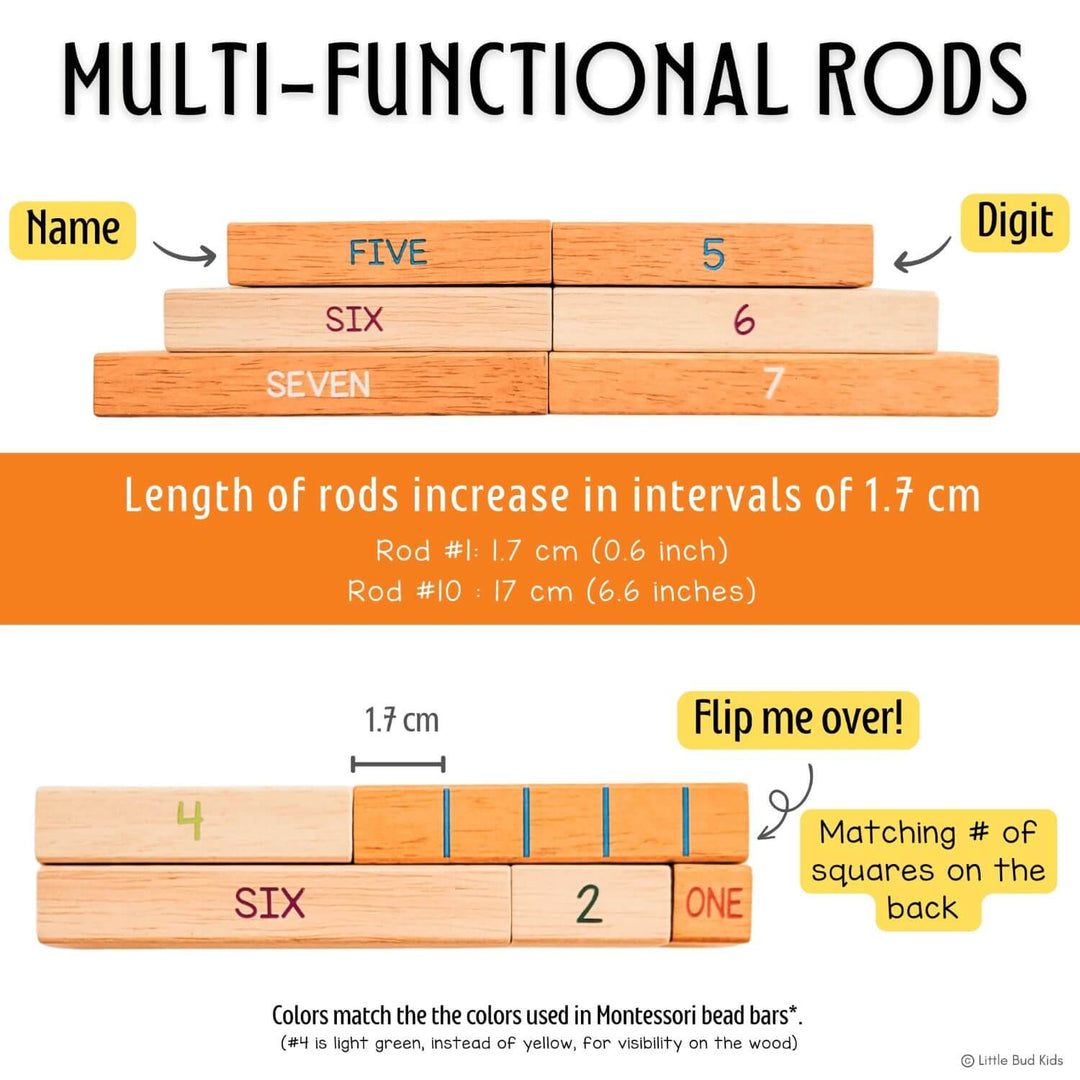 House of Number Buddies - A Number Bonds Addition & Subtraction Math Game *JUST RELEASED!*
HOW MANY WAYS CAN YOU MAKE A NUMBER?
Deepen knowledge of addition & subtraction facts with this tactile, number bonds math game set. Journey through the "Land of Number Buddies" with the help of your math tools - 2 sets of number rods, an addition / subtraction grid board, and 50 quests to solve.
In this land, numbers come alive. They live in houses, buddy up together, and visit each other in their homes. Step inside this Land of Numbers and experience how this engaging Montessori number rods math learning toy teaches kids core math concepts - addition, subtraction, regrouping, and parts & wholes.
Master regrouping, number parts & wholes, addition, subtraction, & place value with this exploratory, multi-functional number toy set.
MASTER NUMBER BONDS: This number rods math board game teaches kids core math concepts - addition, subtraction, counting, and parts & wholes. This multi-functional set can be used as a:

Number puzzle for preschoolers and kindergarteners
Addition & subtraction math manipulative tool for 1st & 2nd graders
Fun math board game for all kids 4 - 8 years old.


IMPROVE ABSTRACT MATH SKILLS: Join Bailey the Bunny to find all the different ways numbers pair up together to make another number. 50 game cards prompt children to explore how numbers up to 20 can be regrouped into different parts and ordered in various ways. The lengths on the wooden number rods increase incrementally for each number, thus providing a visual framework for understanding the relationship between value and length.
1 Wooden Game Box with Lid
2 Sets of Double-sided Wooden Rods #s 1-10
1 Set of Number Cubes 0-20 and + - = Signs
1 Addition / Subtraction Grid Game Board
50 Game Cards
1 Play Instruction Sheet with Addition Control Chart
1 Downloadable Point Tracker Sheet. Click HERE to download.
Free access to our downloadable 5-page Number Bonds Sampler Set. For more info click HERE.

Made with durable, repurposed solid rubberwood from Thailand. Lab-tested safe for child safety.
MASTER NUMBER FAMILY FACTS, THE FUN WAY.
See & understand all the different ways numbers can be broken apart & joined together. With this number set, "2 + 4 = 6" takes on a whole new meaning of fun with the concept of our Number Houses 🏠 and Number Buddies.

Which number buddies can you find in 🏠 House Number 6 at one time?
Discover that math is everywhere.
Exploring with puzzles, spirals, and towers using rods that are marked and numbered all help reinforce the idea that math is found everywhere.

✔️ Numbers fit within larger numbers and can likewise be broken down into smaller numbers.

✔️ Spirals work because each subsequent piece decreases in length. Length is related to number value.
✔️ Numbers can be regrouped. Creating a puzzle with 1 and 8 on one side is the equivalent to using 8 and 1 on the other side.
MULTI-FUNCTIONAL NUMBER RODS
DIGIT & NAME MATCHING
Match a number's name to its digit. Digits and names share the same font color which gives children visual clues of value correspondence.
Colors on the rods match the color scheme of Montessori colored bead stairs*
Serves as a resourceful complementary number resource for home use
ODD VS. EVEN NUMBERS
Introduce your child to the difference between odd & even numbers. Odd rods are a honey shade; even rods are a cream shade.

See numerical patterns and ordering
Deepen understanding of arithmetic differences between these 2 types of numbers
Explore with this Addition Grid Board.
Explore fact families up to 20. Our board, while similar to the Montessori Addition Strip Board, goes all the way up to number 20, instead of 18. Every 5th line is bolded to provide children with a visual reference point for 5s and 10s, a concept similar to Ten Frame Math.
Master Parts-Wholes-Fractions.
Parts and wholes can be a very abstract concept to children. These gradient-length rods gives meaning to the connection between value & length. The bolded 5th line of rod numbers 6 - 10 gives children a visual reference for thinking in groups of 5 & 10.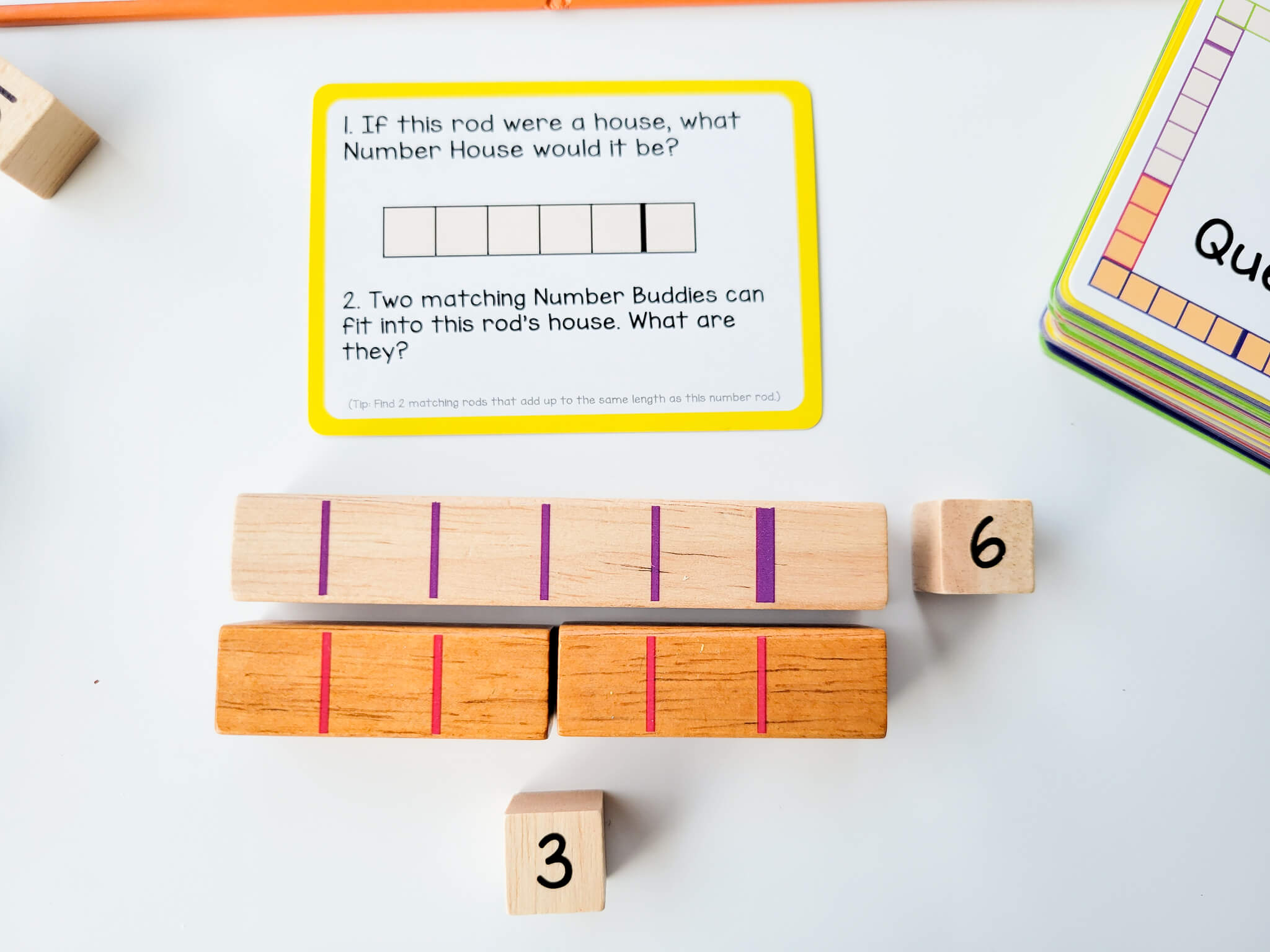 Bring on the free play.
So many uses for number cubes 0 - 20. Write equations with them, order them, separate them out by odd vs. even, skip count, & more!
⭐ Developmental Benefits ⭐
✔️ Teaches digit & written number correspondence 
✔️ Teaches number bonds - math fact families up to 20
✔️ Teaches subitizing, the precursor to mental math
✔️ Teaches parts & wholes of numbers & regrouping
✔️ Teaches odd & even number differentiation
✔️ Boosts critical thinking skills & number sense
50 Quest cards, math gamified
50 math equations on sturdy, blue-core cards
Categorized by difficulty level & task.
Bailey the Bunny is traveling through the Land of Number Buddies as well, can you find him?
Shop Now
Track your points & progress
Want to see how fast you're mastering those number fact families?
Download our free Quest Point Tracker to keep track of your progress each time you play!
Encourages accuracy and progress.
Download Now
Shop our 35-PAGE NUMBER BONDS WORKSHEET SET
Shop our complementary Number Bonds Worksheet Set. This set provides opportunities to practice & understand:
number bonds & fact families
regrouping
parts-wholes-fractions
odd vs. even
addition & subtraction up to 20
math in the real world
Want to see a sample first? Click HERE to get our 5-page sampler set for a glimpse of the content!
Shop Full Worksheet Set
EDUCATIONAL Theories
Influenced by a variety of learning tools for early elementary school, our educational math board game takes the best ideas from Singapore math, numberblocks toys, Cuisenaire rods, math cubes, and Montessori math (Montessori numerical math rods, addition strip board, bead houses).

All these theories combined all point to the main idea that children learn best when provided opportunities for hands-on, visual, & tactile exploration of various math manipulatives.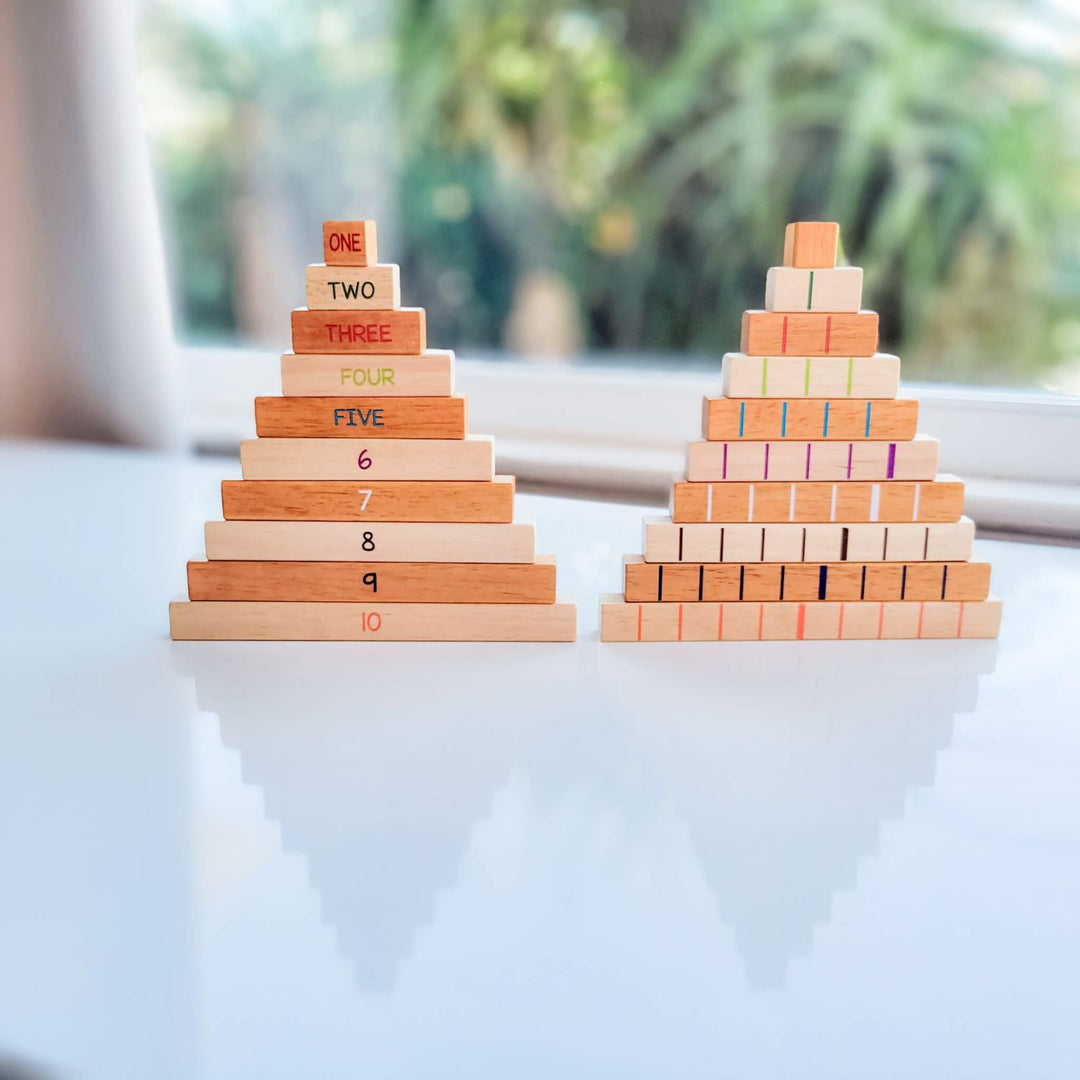 about our eco-friendly toys
Take care of the earth by choosing sustainably-harvested wooden toys or skillfully repurposed hardwood. Our rods are made with repurposed rubberwood from Thailand.  
Our wooden game set is safe and non-toxic, and certified by TÜV SÜD, a global regulatory compliance company, to exceed toy safety regulations in the US, Canada, U.K., EU, Australia, and New Zealand.

Learn more about wood types HERE.