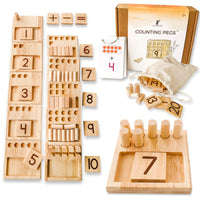 COUNTING PEGS || A Math Toy That Grows With Your Child
Master number sense, counting, ordering, and adding & subtracting with our ten frame math manipulative game.

Designed to grow with your child, this math toy offers multi-faceted ways to explore numbers and lay down a strong foundation for all things math.
LEARN MORE & SHOP NOW
Testimonials || Counting pegs
The counting pegs are an amazing way to teach your toddler or preschooler counting and also addition & subtraction and even & odd numbers. The peg holders are beautifully carved and made. We're loving it!



Aashiyaan
We are very impressed with the 10-frame and pegs set. My granddaughter....doesn't have the same interest in math. So, right now we've showed her the math set and allowed her to explore it. She loved inserting the pegs, noticing the different shaped pegs, and seemed to like handling the pieces.

Grace K.
We love the spinner blocks and these were an instant hit with my young kids. I love that it helps counting, number recognition, and can be used later for addition and subtraction! A great product I will certainly purchase again for gifts.



Kristen
Great tool for lessons. My daughter loves it, she stayed at the study table to do more.
Spin-and-Read Blocks & Phonics Flashcard Set
Stumped on how to help your child learn to read? Curious about the Montessori approach to reading?

Screen-free and portable, these rotating phonetic reading blocks & CVC flashcard set introduce letter blending in a straight-forward way, empowering readers to decode, rhyme, and self-correct with ease.

**For all the beginner readers in the world, whether they are 3 years old, or 7.**
LEARN MORE & SHOP NOW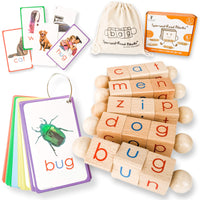 My favourite reading toy! My (then) 3yo uses it to practice his CVC spelling, match the words to the flashcards and read aloud. It also helps strengthen my 2yo's fine motor skills.



Mei T.

My kindergartner was struggling and this learning tool is so helpful and affordable! We love it and the silly words make her giggle! 

Marina
Well made and AWESOME tool for emerging readers (especially kinesthetic learners). I love that the spin letters can be used with or without the cards. 



Julie S.
Give them the right tools. Help them sound it out. Then let them take the lead. The letters will do its magic. We just help set up the foundation.
"My kindergartener can't get enough of this! She thinks it's a toy, but I know it's helping her learn, so it's a win win. She loved using it to teach her little brothers- another total mom win! This will be something all my kids will enjoy for a long time- I couldn't recommend it more if I tried!"