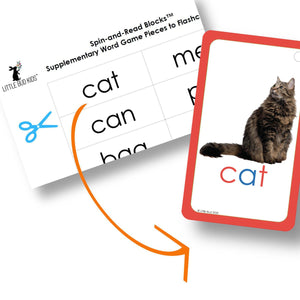 **THIS PRODUCT CORRESPONDS TO OUR SPIN-AND-READ PHONETIC READING BLOCKS & FLASHCARD SET, sold here.**

Interested to take your Spin-and-Read Flashcard Set to the next level? Looking to supplement your Spin-and-Read Block Flashcard Set even more? For your convenience, we've put together 1" x 2.75" word game pieces of the 30 CVC words featured in the flashcard set as an easy download. Just print, cut, and play! 

These supplementary word game pieces can be used for matching games & activities and as an additional fun, self-corrective tool.

**This is an Adobe PDF file. The download is available upon payment. We recommend using card stock to increase the longevity of your game pieces!
**Copying any part of this product and placing it on the internet is strictly forbidden and is a violation of the Digital Millennium Copyright Act (DMCA).**