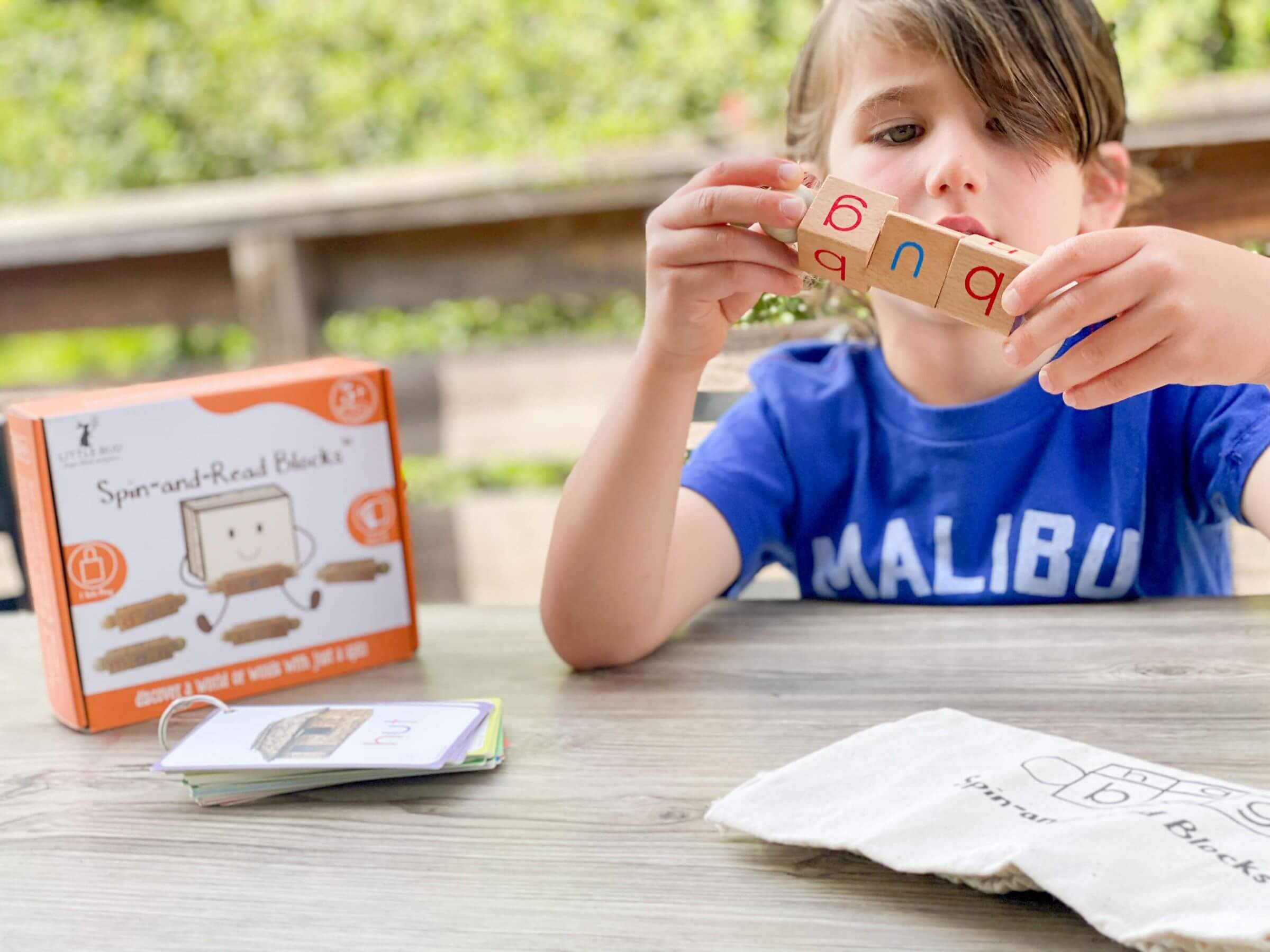 Little Bud Kids' Spin-and-Read Blocks
Because phonics makes reading fun & straightforward.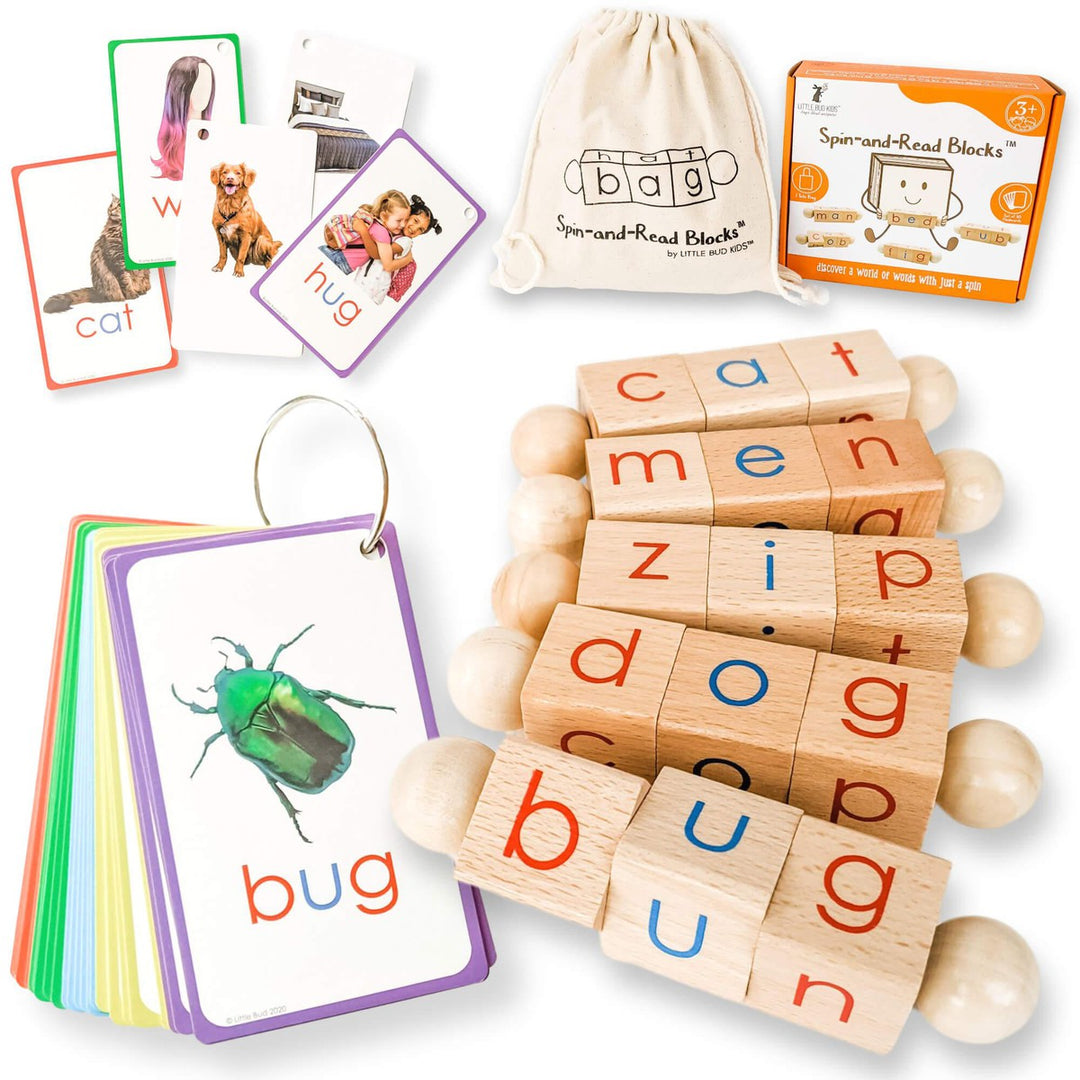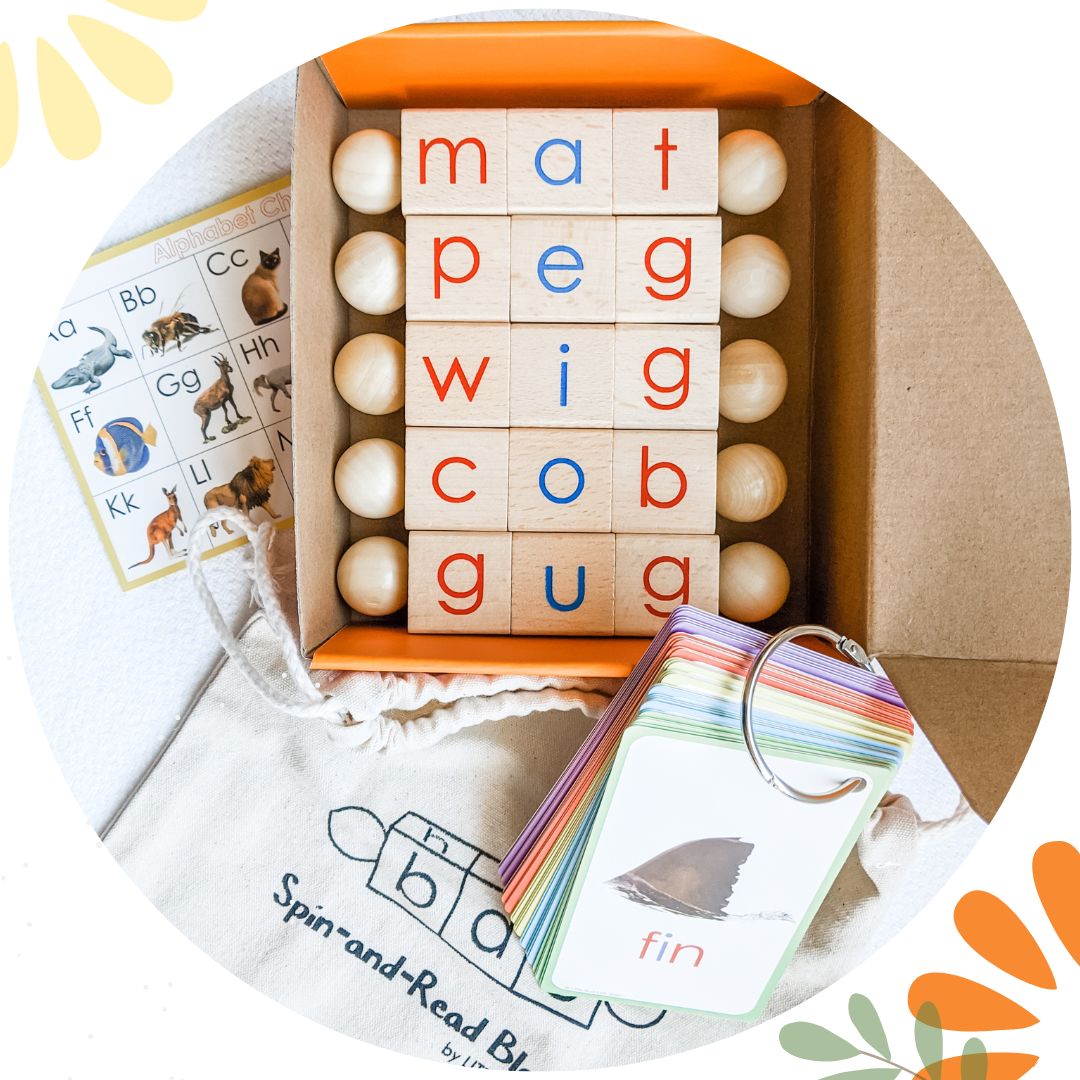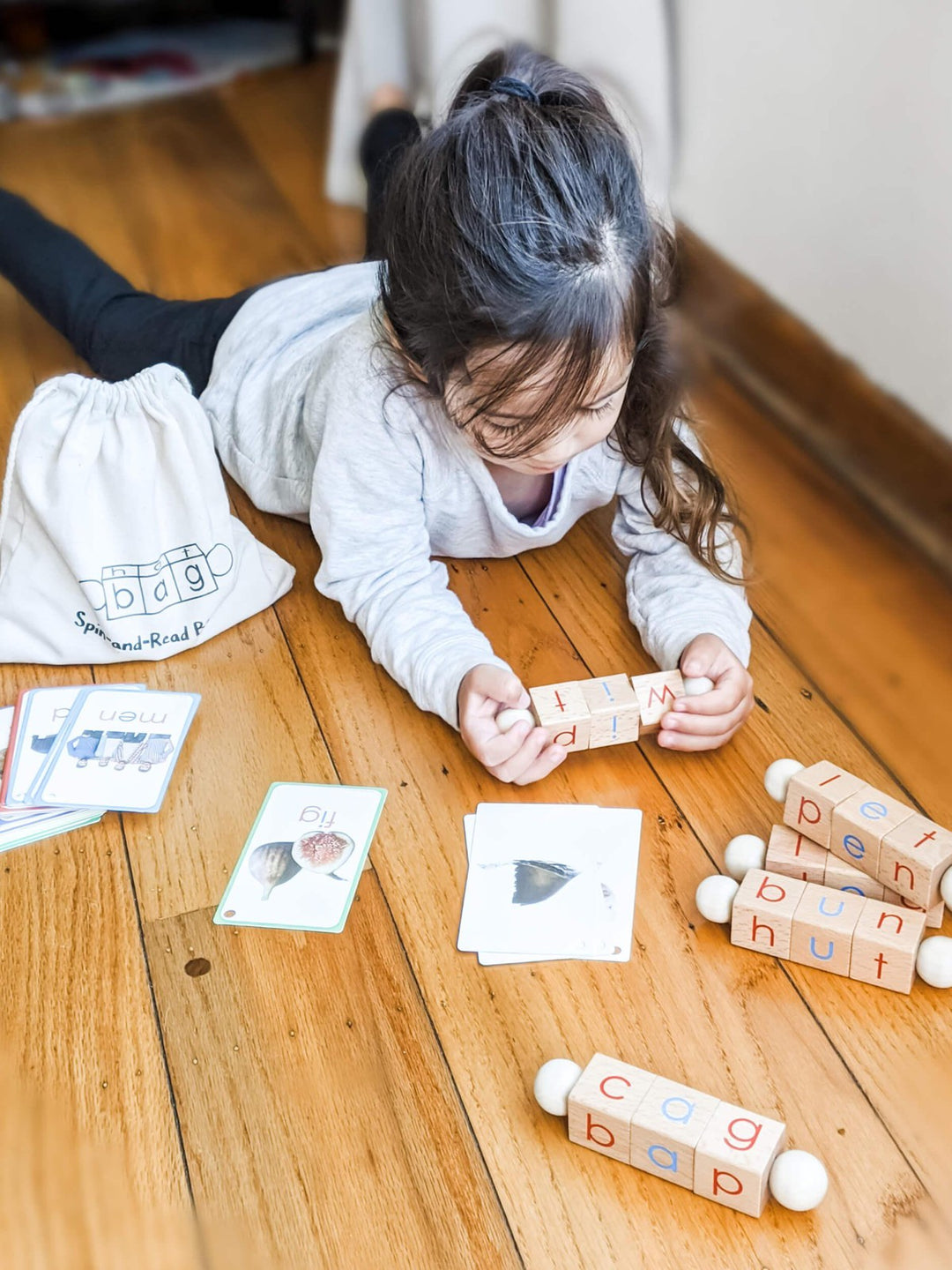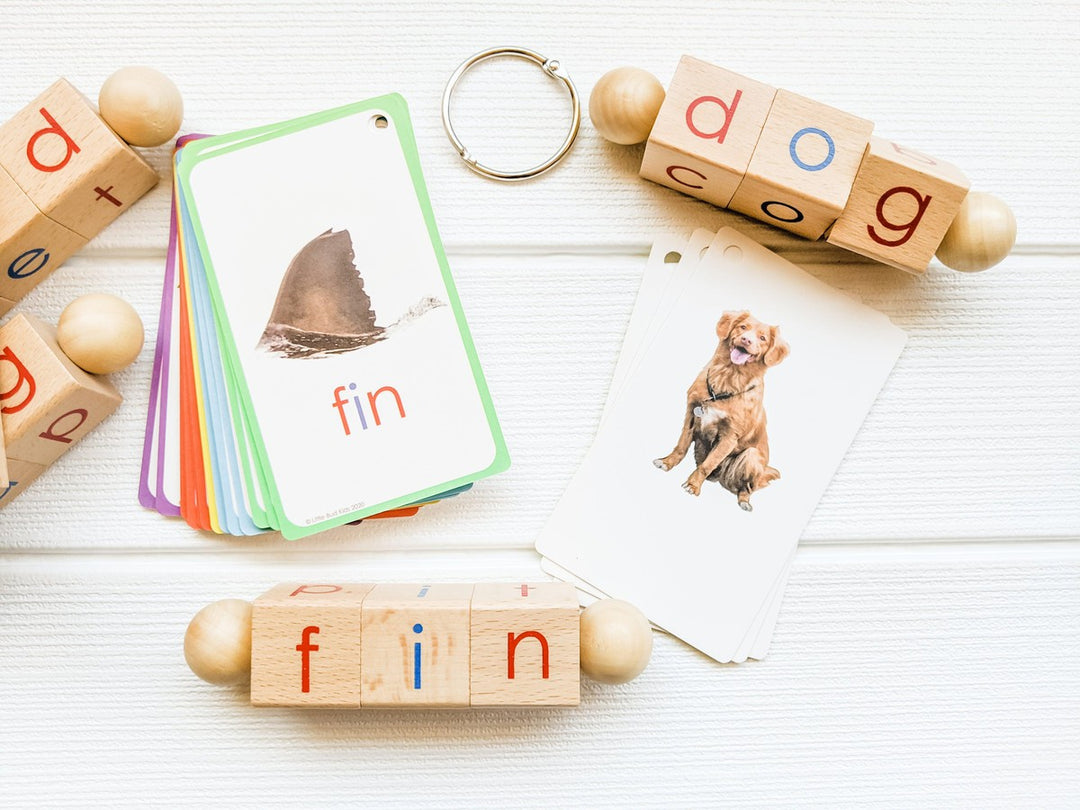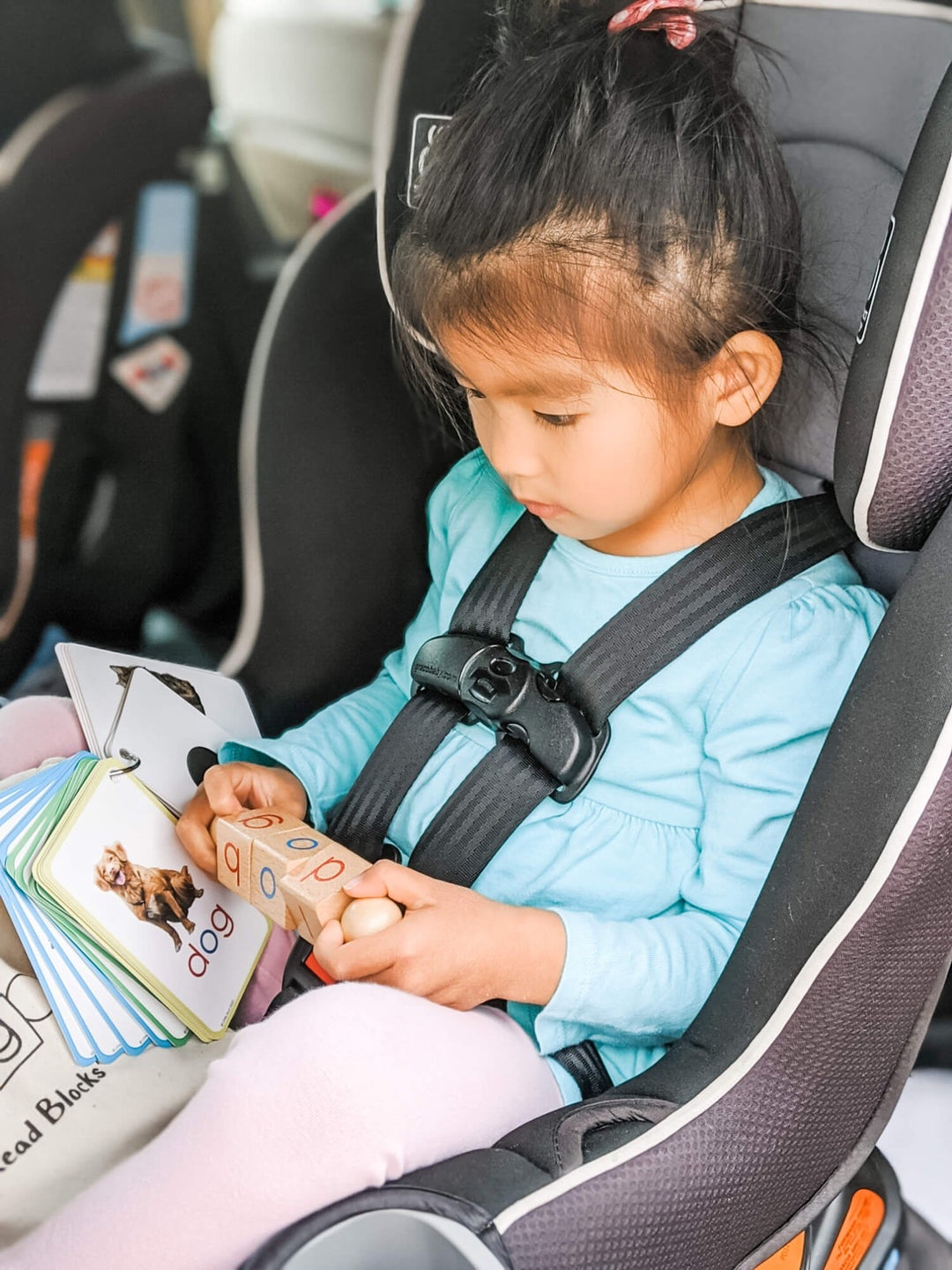 Spin-and-Read Phonetic Reading Blocks & CVC Phonics Flashcard Set
READING MADE SIMPLE, INVITING, AND FUN.
Learn to read by building three-letter words. Transform CAT < HAT and HAT < BAG.

Build 3-letter CVC (consonant-vowel-consonant) words & explore how to spell, read, and rhyme with this tactile, movable CVC phonics toy. Each of the 5 wooden rods features one vowel and a set of consonants that rotate.
DISCOVER THE SIMPLICITY & MAGIC OF READING: Discover how easy it is to read! These spinning letter blocks make it so fun for children to string letter sounds together to form a word.

SELF-DIRECTED LEARNING: Spin it, rhyme it & match it with 62 common words & a set of 30 double-sided CVC flashcards. Designed for matching & self-correcting. The set comes with an alphabet letter sounds guide for pronunciation support.

TRAVEL-FRIENDLY: Compact with bounded flashcards & a travel tote bag.

ALL-IN-ONE LEARNING MONTESSORI TOY FOR TODDLERS: This reading set makes an excellent educational learning toy gift. The set provides game ideas and free access to more phonics practice, including our 25-page phonics CVC Worksheet Set. For more info, clickHERE.
5 wooden phonetic reading block rods each with 1 featured vowel
 1 set of 30 double-sided flashcards bounded by a removable metal ring. (Six color-coded cards per vowel).
1 tote bag
1 gift-ready box
 1 alphabet chart + play ideas card
 Free access to our 26-page Phonics Worksheet. For more info click HERE.

Made with durable & sustainable solid German beech wood, a hardwood that will keep its shape and beauty for years. 
TAKE THE COMPLEXITY OUT OF TEACHING YOUR CHILD HOW TO READ.
Our phonetic reading blocks are inspired by the Montessori philosophy to offer toys and material to children that are open-ended, multi-sensory, and natural. These rotating wooden phonetic blocks introduce the magic of letter blending and make learning to read, decode, and rhyme, straight-forward and empowering.

All without the screens.
TRADITIONAL, FAMILIAR PRINT
Our blocks feature a plain, traditional print already familiar to your beginner reader. This is so he or she can confidently build upon existing knowledge. 
 
Our carefully selected letter combinations maximize the number of decodable words familiar to young children, which creates a cycle of positive affirmation as they master word after word. (But don't forget nonsense words are normal, and great for practice & word recognition too!!)
MULTI-LEVEL & DESIGNED FOR SELF-GUIDANCE
Our CVC flashcards are double-sided to promote independent learning! The heavy-duty flashcards are designed to grow with your child.
 
One side features a picture with its written word, and the other side features just the picture. This allows both absolute beginners and more advanced readers to engage in self-correction and provides endless ideas for phonics games and activities.
FREEDOM WITHIN GUIDELINES
Our phonics toy offers just the right amount of exposure and challenge for brand new readers. Our rods introduce English words in their simplest form. Consonant-vowel-consonant (CVC) words are logical, straight-forward, and leave no room for alternate pronunciations.

Our CVC resource sets children up for victoryby helping them master a foundational step in reading first. There are no sight words ("the") or words that follow other rules ("eat") that could potentially cause confusion to new learners.
My kindergartener can't get enough of this! She thinks it's a toy, but I know it's helping her learn, so it's a win-win. She loved using it to teach her little brothers- another total mom-win! This will be something all my kids will enjoy for a long time- I couldn't recommend it more if I tried!

- Jen H.

⭐ Developmental Benefits ⭐
✔️ You have a toddler, preschooler, pre-K, or kindergartener, or anyone aspiring to read.
✔️ You have no idea how to introduce reading.
✔️ You want to start with phonics.
✔️ You are looking for something classic, multi-sensory, portable, and easy to clean up.
✔️ You are looking for a worthwhile "educational" toy and gift for your child.
✔️ You believe self-exploration and independence within guidelines is the best way to learn.
Travel-friendly
Designed by a mom for ease of travel & clean-up. Our boundable cards make learning mess-free. Perfect for travel, restaurants, the doctor's office, and playing anywhere your little one wants to.
Spelling practice
Can you find all the words each vowel makes? How many silly nonsense words did you find?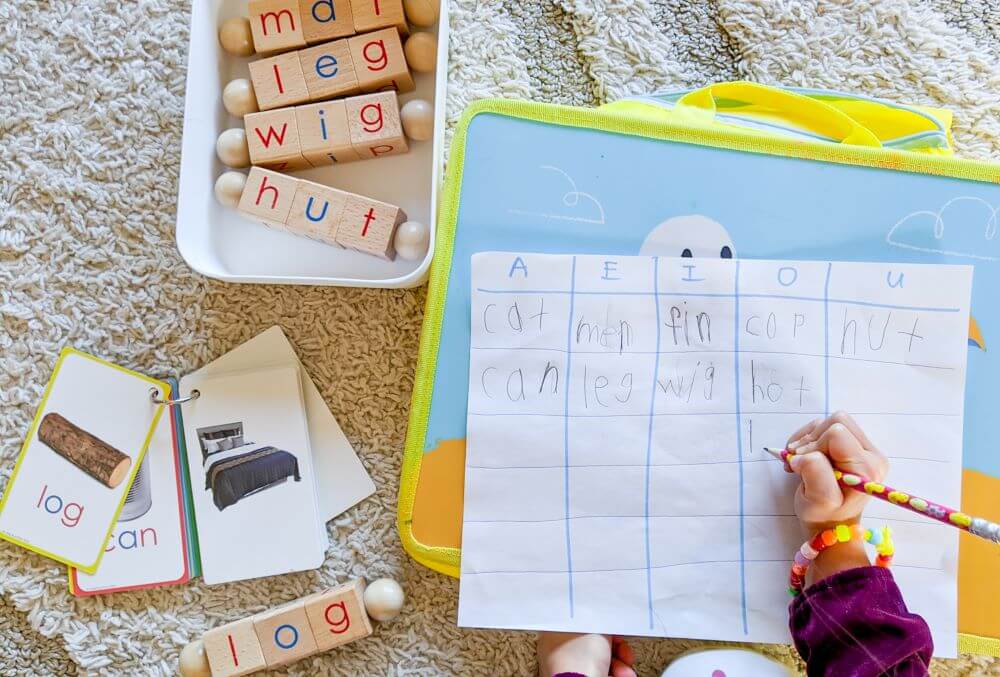 THE BENEFITS OF PHONICS
A study in 2019 showed that 65% of fourth graders in the U.S. are not proficient readers. This statistic is alarming and sad. On the flip side, studies show that phonics instruction greatly improves a child's foundation for word recognition, spelling, and reading comprehension. 

A proper phonics foundation allows one:
1) to see the relationships between sounds and their spellings.
2) to move towards reading fluency.
3) learn to decode instead of guessing.

Learning to read doesn't happen "naturally," but must be taught. So, let's help them learn. Let's give them the right tools to learn and be empowered. 
Shop Now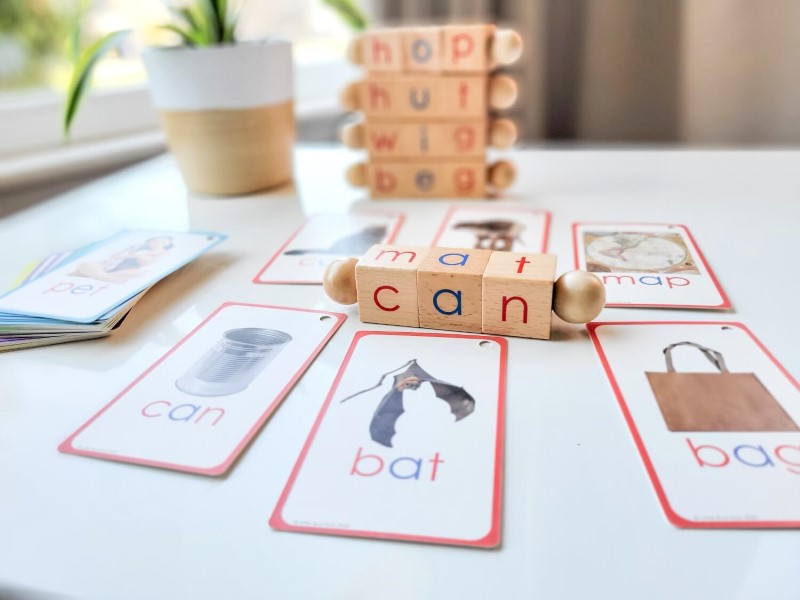 WHAT ARE CVC WORDS? 
Three-letter words are English words in its simplest, most elementary form. These words are also called CVC words or consonant-vowel-consonant decodable words.

Learning the patterns in words helps establish a strong foundation for advancing reading skills. For instance, simple 3-letter words such as H-A-T and D-I-P and F-U-N are easy words that will allow your child to start reading short stories quickly. Talk about a confidence booster!     
Color-coded CVC Flashcards
5 vowels. 6 double-sided CVC cards each.

One side has just the picture; the other side has the picture, word, and a colored-border.

Designed for multi-stage learning, self-correction, and pattern recognition.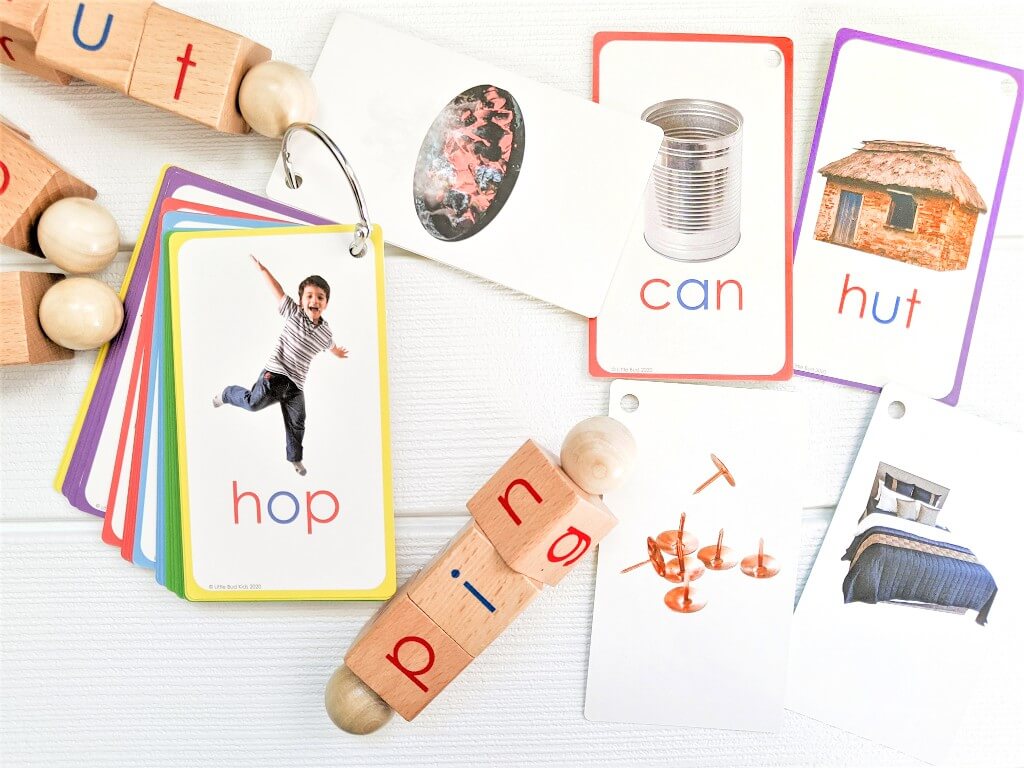 25-PAGE CVC PHONICS WORKSHEET SET ACCESS
Get free access to our Phonics Worksheet Set. This worksheet set will provide writing, spelling, and identification practice for your beginner reader.


Learn more here
★★★★★

These are completely adorable. Very sturdy and so much fun for the kids while working on their spelling and reading. The cards have a side without the letters for older kids.

Tara
★★★★★

This is a fantastic product! We're homeschoolers and look for fun, educational, non-toxic toys. This ticks all the boxes and then some. First off, the shipping was VERY fast. I was thrilled when these blocks arrived almost the next day! Second, these blocks are very well made. They're solid wood with non-toxic paint. Don't ever take for granted non-toxic toys, especially when some paints have lead in them. But this product and this company are absolutely fantastic. My little one is going to LOVE this gift! Thank you for a superior product!

Kelly L.
★★★★★

Our students love this resource! I originally purchased the blocks for my classroom. Our school administration was so impressed the principal bought a set for all the K-2 teachers. The download is a great addition! Thank you!

Lucy Q.
★★★★★

These are so great. They spin easily, are clearly very well made, hold up to the abuse my crazy kid subjects them to amazingly well, and are excellent learning tools. The included cards with words and pictures are also great. My kid whips through them, making the wood spinners match the words, but the backside has just the pictures without the words for when he's ready to take that next step. These are complete learning tools for cvc learning and I'm completely satisfied with them. Strong recommend.

Alice S.
★★★★★

It's so refreshing to see my 4-year old enjoying a learning toy with no lights, sounds, or plastic parts. This item is beautifully made and of the highest quality. Definitely recommend!

Tracy
about our eco-friendly toys
Take care of the earth by choosing sustainably-harvested wooden toys that extend past the life of many plastic toys. We choose beech wood for its extreme hardiness and beauty. 
Our wooden game set is safe and non-toxic, and certified by TÜV SÜD, a global regulatory compliance company, to exceed toy safety regulations in the US, Canada, U.K., EU, Japan, Australia, and New Zealand.

Learn more about wood types HERE.